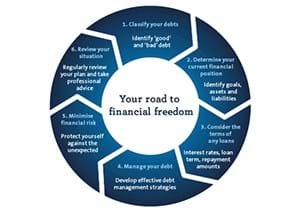 Debt Solutions
When clients talk of financial freedom the first point is usually owning their own home.
Being 'mortgage free' is a key goal in any financial plan, and a step that comes before retirement and superannuation.
We can help you become mortgage free faster, and that usually means in the long term you save money that can be used to increase your personal wealth. Just because you have a 30 year loan doesn't mean you have to take 30 years to pay it off!
Why FM Financial?
While most of us like to think we have good loan arrangements in place it is surprising what can be negotiated.
Your FM adviser can:
* assess your current arrangements
* undertake a comprehensive review of what we can achieve for you in the market
* negotiate the loan and package benefits which best meet your needs
* organise the application process and look after everything right through to final loan settlement.
We have been achieving some outstanding results for our clients. Better still, we do all the hard work allowing you to enjoy a seamless and stress-free experience, whilst making considerable savings over the life of your loan.
Why FM Financial?
1) Not owned by a bank or insurance company
2) We can source a loan that's right for you from leading lenders
3) Save thousands in interest payments* (* Savings vary and depend on a number of factors including loan term and loan amount.)
4) No stress or hassle
5) FREE loan review and assessment
Steps to managing debt
The truth is, whether it's a mortgage on the family home, a loan for the new car or the school fees, most of us are likely to be in debt at some point during our life.
The basic approach to managing debt can be broken down into the six steps illustrated below.The trick is to make sure we use debt sensibly, as part of a financial strategy.
FM Financial Pty Ltd (ABN 80 074 824 749), trading as FM Financial Pty Ltd (ABN 80 074 824 749), is a Corporate Authorised Representative of Hillross Financial Services (ABN 77 003 323 055),
Australian Financial Services Licence AFSL 232705.